It's almost over. Tomorrow is another excerpt from my ghost story, so this is my last post for NaBloPoMo that consists of new material. Here's what I've learned this month:
1. I have no problem, whatsoever, coming up with ideas for blog posts.
2. I do have problems turning all those ideas into actual posts.
3. When I have to post every day, reading others' blogs and commenting on them has to give.
4. When I have to post every day, reading books has to give.
5. When I have to post every day, I'm online way past 8:00 p.m. (which is something I don't like to be).
6. My novel-writing did not suffer the way I thought it would. I kept up with it until this week (holidays are too hectic).
7. I want to get back to posting more frequently than I was before this month started, but I don't want to post every day (maybe every other day?).
8. I
can
be disciplined when I want to be.
9. When I post every day, my stats go up.
10. I think if I could figure out a way to turn blogging into a career (you know, that extraordinarily likely event, an editor at
The New Yorker
calling me out of the blue and saying, "You're a fantastic writer. Will you join our blog staff?" happens), I'd be very happy. Oh, wait a minute. I don't think I really learned that this month...
Congratulations to all the rest of you who made it through this month (both those of you attempting to post everyday yourselves, as well as those kind enough to read a month's worth of my blather)!
Oh, and here are a couple of other things I've learned, thanks to
Susan
and quizzes (taking quizzes is a terrific procrastination technique when it comes to not writing blog posts). My
reading personality
is:
Exacting Reader
You read for entertainment but also to expand your mind. You're open to new ideas and new writers, and are not wedded to a particular genre or limited range of authors.


(Yep, that one has me nailed.)

My
blog type
is:
ESFP - The Performers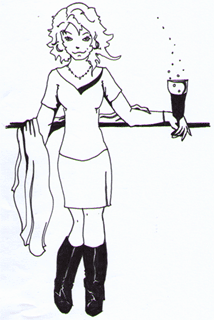 The entertaining and friendly type. They are especially attuned to pleasure and beauty and like to fill their surroundings with soft fabrics, bright colors and sweet smells. They live in the present moment and don´t like to plan ahead - they are always in risk of exhausting themselves.
They enjoy work that makes them able to help other people in a concrete and visible way. They tend to avoid conflicts and rarely initiate confrontation - qualities that can make it hard for them in management positions.
(Hmmm...

I

, the consummate"arguer," who states what's on her mind, one who tends to avoid conflict? I have most definitely created a blog persona!)